Barrs Court History
Barrs Court is situated in the county of South Gloucestershire in the South East of England. The site which has been designated as an ancient monument consists of approximately two acres of land, eighty percent of which is surrounded by a quite well-preserved Moat. The Moat is now the only visible reminder of the area's early history.
Little is known of the early history of Barrs Court Moat. Moats of this type were usually created around the 13th and 14th centuries and early documentation dating back to 1340 gives reference to the Barrs Court Moat.
The name comes from Sir John and Lady Jane Barre who owned the land in the mid 15th century. In the 16th century the Newton family enlarged Barrs Court and built a large mansion in the centre of the moat field, which stood there until around 1750.
One corner of the moat was in-filled when the farm was created following the demolition of the mansion, from what was originally the outbuildings of the original mansion house. One of these original outbuildings, the large cruciform barn was in the late 1980's converted into a public house, known now as The Barrs Court and is currently an Indian restaurant.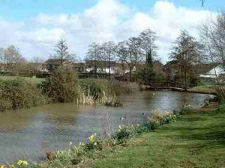 Barrs Court mansion would have been an excellent example of a large middle to late medieval house. It would have consisted of a large house, with courtyards, stables, orchard and gardens, surrounded on four sides by the moat, now the only serving relic. The moat would have been constructed more as a showpiece than for defence; prestige was important to the wealthy of that period.
The four internal banks of Barrs Court moat are constructed with a retaining wall. Much of this still remains on site, but parts have been damaged over the years, with the eastern portion of the moat wall being destroyed during construction of the nearby large farmhouse during the seventeenth century. The original walls can still be viewed along the western length of the moat, with the best viewpoint being from the small weir and plank bridge area. The Barrs Court Moat remains as the single most important medieval relic of the old Kingswood Chase.
Early manuscripts reveal a few brief details of the early manor house, describing it as being enclosed with a high wall all around the park. The house itself was square with square stone mullioned windows, with gothic heads and labels. There was also a drawbridge. Barrs Court mansion and its moat lay in the centre of a park covering approximately 95 acres, which seems to have been created at a late date, being described as "New Made" in a title deed of 1661. The kidney shaped outline of this enclosure was until recently still traceable on the ground.
The Barrs Court Moat has been designated an ancient monument dating back to the 14th Century. It is looked after by a local Conservation Group called 'Moativation.' For more information and details about the group please contact
https://www.facebook.com/BarrsCourtMoat