School Council
Barrs Court have a brand-new School council who have been working very hard already as role model pupils and representatives in the wider community. The team is buzzing with ideas and they can't wait to bring ideas from their peers to the forefront of our projects to make this school and even better place for learning and play!
Who we are…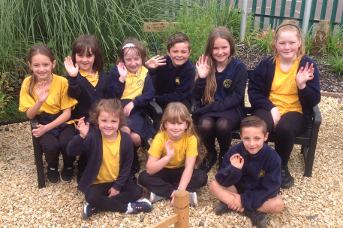 Our school council team:
Jude
Emily
Elissa
Ruby
Cora
Gaby
Aoife
Layla
Jaxson
What we do…
Last term we worked on zoning our playground and introducing play equipment for the playground at lunch time. We worked with the school sports ambassadors and devised a rota for sports monitors to set up the playground. We also raised some money to purchase a storage unit for our play equipment and the Friends of Barrs Court very kindly donated £125.00 towards it.
Updates…
We have been working very hard this year and we have achieved the following for our school:-
Devised the new toilet rules 'Code of Conduct'!
A cake sale which raised £143.85 for the Wallace and Gromit Grand appeal.
Oak benches for the school field from a local donation.
We wrote to South Gloucestershire Council and asked them to repaint the yellow lines outside of our school.
Developed ideas for the new school garden.
Hair Raising day – raised £240 for the new school garden.
Fruit Tuck – we devised a questionnaire and then changed fruit tuck so that the majority of people could have a whole piece of fruit as requested.
Cake Sale for Ukraine
As a school council we decide that we wanted to raise money to help the people in Ukraine that have been affect by the war. We decided to hold a cake sale. We raised over £800 for the DEC fund. Thank you to everyone to eat a cake!!!!